Introduction
A smartphone's ability to wirelessly charge another device is known as reverse wireless charging. The same technology as conventional wireless charging is utilized but in the opposite direction. The other item is placed on top of the smartphone, which also serves as a wireless charging pad, and is then charged.
Other gadgets, such as smartwatches, wireless earphones, and even other smartphones, can be charged easily via this technology. Additionally, it can be used to power gadgets without built-in charging connectors, such as fitness trackers.
You will need a smartphone that supports this and a Qi wireless charging-capable gadget in order to use reverse wireless charging. Place the device that you have once you have both.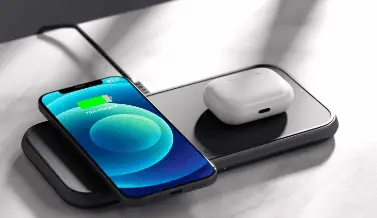 Reverse wireless charging has a cap on how much power it can transmit. This indicates that charging larger items like tablets or laptops might not be the best choice. However, it is a terrific method to swiftly charge tiny gadgets like wireless earphones and smartwatches.
Wireless Charging vs Reverse Wireless Charging
Compared to reverse wireless charging We are all familiar with the benefits of wireless charging for cellphones. There is no tripping over cords or trouble with plugging and unplugging. But are you familiar with ground-breaking Reverse Wireless Charging?
Innovative smartphones are starting to feature this innovative technology, which enables you to charge other devices while using your smartphone. The direction of energy flow is the primary distinction between these two charging methods. The energy used for wireless charging travels from the charging pad to our smartphone, but the energy used for this technology charging travels from our smartphone to another device.
Another distinction is smartphone compatibility. Although this innovation is a function that not all smartphones with wireless charging can enable, wireless charging is still a prevalent feature in smartphones. Make sure your smartphone can support reverse wireless charging.
It makes sense to anticipate that reverse wireless charging will take longer to complete because there is an additional device involved. However, it has been claimed that this depends on the gadget and its particular configuration.
Overall, each charging method has its own set of advantages. Our cell phones can be charged wirelessly, and this mechanism enables energy exchange across our devices. What will work best for you will depend on your needs.
Smartphones with Reverse Wireless Charging
You may be considering upgrading to a smartphone that allows for this mechanism. You're in the correct place, I suppose.
Let's examine a few of the best choices. The Samsung Galaxy S21 comes first. In addition to supporting reverse wireless charging, this flagship phone has a powerful 4000mAh battery that makes it simple to charge other gadgets. Additionally, you may watch your entertainment in all its glory because of its gorgeous AMOLED display.
The OnePlus 9 is the next option. This phone, which is renowned for its lightning-quick charging speed, also enables wireless charging of other devices. You won't be disappointed with this pick either thanks to its stylish appearance and potent Snapdragon 888 CPU.
The iPhone 11 series comes in last place but certainly not least. These phones are not the most recent offerings from Apple, but they are nonetheless powerful. You can take beautiful pictures and keep your devices charged all day long with this dual-camera system, which also has wireless charging capabilities for additional devices.
You now know which smartphones we think are the best for reverse wireless charging. All that's left to do is evaluate your options and select the one that best suits your needs.
.
Accessories for Reverse Wireless Charging
Truth be said, we all have that one friend who never remembers to charge their phone. Well, don't worry! Reverse wireless charging has made it possible for your forgetful buddy to recharge their phone while on the go using suitable accessories.
So tell me, what are these accessories? The first category is Wireless Charging Pads. Your smartphone can rest on a flat surface thanks to these charging pads. Your smartphone will begin charging as soon as you place it on the charging pad. It's that easy!
Power banks with wireless charging come next. These power banks can wirelessly charge additional gadgets in addition to your smartphone. For those extended days out or while you're traveling, it's the ideal option. Just make sure you bring a fully charged power bank.
Wireless Charging Car Mounts are last but certainly not least. These are ideal for motorists or frequent smartphone navigators who spend a lot of time on the road. Place your smartphone on the mount, then concentrate on the road ahead as it charges. No more driving around with charging cables in your hands!
These accessories are fantastic since they allow you to charge your phone without having to carry around charging cables. They are also simple to use and reasonably priced. Therefore, if you're constantly on the run, these accessories are definitely something to think about.
How to use Reverse Wireless Charging
So your smartphone is capable of grabbing this innovation. Okay, hold on! We'll take you on a brief ride to demonstrate how to use this technology effectively. It won't take long at all. Promise!
First and foremost, turn on your smartphone's reverse wireless charging capability. Since this differs from phone to phone, we advise consulting your device's handbook for an easy way to do this. Once enabled, you'll need to locate a station of this with charging compatibility.
Before buying, make sure the pad can accommodate the wattage of your phone because it can affect how quickly it can charge. Once you have the appropriate pad, all you have to do is set your phone down on it to begin the process.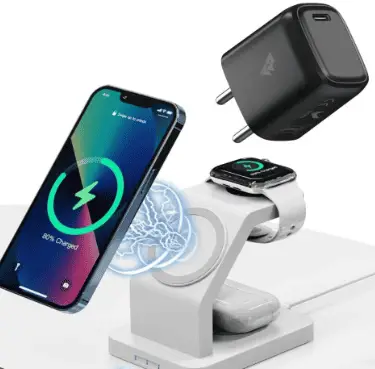 Other gadgets like wireless earbuds, smartwatches, or other smartphones that allow this can all be charged using reverse charging. Place the two devices back-to-back and activate reverse wireless charging! Hold on though!
While charging numerous devices, be mindful of compatibility concerns, charging speeds, and distances as they can impair the effectiveness of the charging. That's it, then. You now know everything there is to know about this innovation.
Go ahead and astound your pals with your newly discovered charging prowess, and while you're at it, don't forget to display your unique wireless charging pad!
Limitations of this innovation
While using your smartphone to charge all of your devices in reverse wireless fashion may seem like the perfect answer, this technology has several drawbacks. The efficiency of this technology is one of its main drawbacks. Because the energy from the battery is lost throughout the charging process when it is transformed into a wireless signal, charging periods may take longer.
Distance is another element that influences charging speed. The gadgets need to be put close together for the best charging speed. The charging rate will be much slower if there is too much space between the two devices.
The charging pace will be slower for a device with a large battery capacity compared to one with a lesser battery capacity. In conclusion, this innovation is not ideal even if it is a practical feature to have.
It's crucial to take into account its limits, like efficiency, charging speed, and range. This innovation, on the other hand, can still be a practical and cutting-edge method of charging your gadgets while you're on the go if done properly.
Conclusion
That's all there is to know about this! This feature is undoubtedly for you if you enjoy showing off the newest technological gear. You may wirelessly charge your device and even share the energy with others by following a few easy steps.
This is still a developing technology with several drawbacks, it's crucial to remember that. It is not as effective, quick, or widespread as conventional wireless charging techniques.
Then, it's a start! Are you anticipating utilizing this feature? Tell us in the comments section below! Do check out How To Fix eBay App Error