Janitor AI is a sophisticated chatbot that demonstrates the advancement of artificial intelligence. It makes use of artificial intelligence algorithms to increase communication and provide automated help across industries. This chatbot makes use of AI algorithms to provide automated support to a variety of enterprises and to promote fluid dialogue.
Users can freely connect with each other and all thanks to the innovative platform's vast selection of chatbots with many character options, most of which have anime-styled avatars. The software makes use of Natural Language Processing (NLP) technology to decipher user inquiries and provide incredibly precise answers.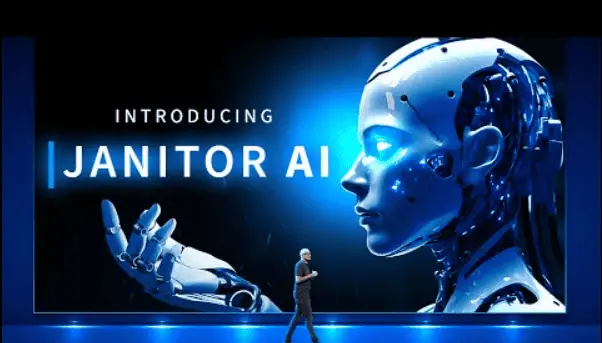 Best features of Janitor AI
Character Styles: It has a variety of character styles, including anime-inspired designs, human-like avatars, and more. Users can also customize their chat experience by selecting from a library of pre-made characters.
Character Marketing: It enables users to construct their own AI chatbots and provide chat services. This allows for the quick expansion of character alternatives, catering to a wide range of user interests and resulting in a rich and diverse character marketplace.
Adult Content: Unlike other AI chatbots, it has adult content characters that allow users to converse about mature themes and topics. When selecting chat companions, users can pick NSFW (Not Safe for Work) characters.
Another noteworthy feature is its knowledge base integration capacity, which enables effective information retrieval and presentation to users. Furthermore, the model can be tailored to meet specific requirements and business goals, improving user experience and personalization.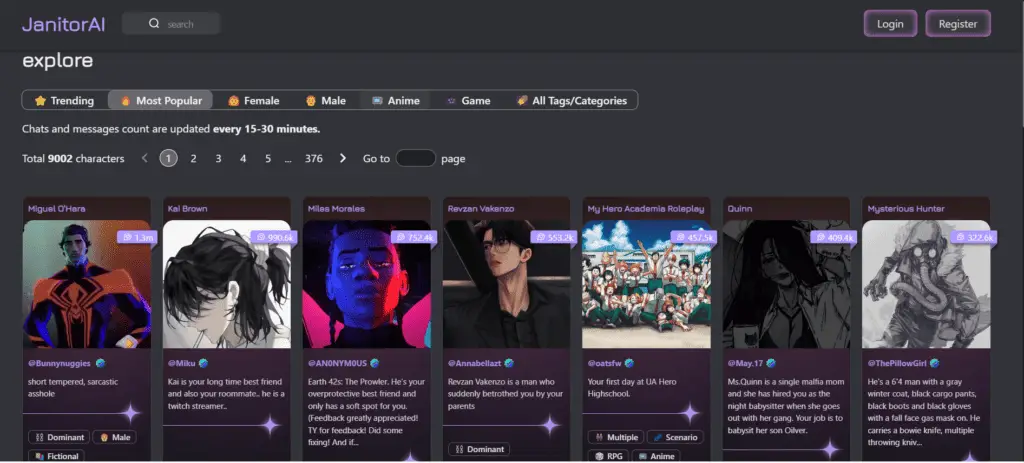 How To Use Janitor AI
It can be used as a standalone online chatbot or as an API in your projects.
Simply go to the website and create an account to utilize it as a chatbot.
Users can then select from a variety of chatbots based on their requirements or create their own customised chatbot.
The approach for developers or businesses interested in incorporating Janitor AI into their projects is simple. It starts with integrating Janitor AI into the selected platform or application using the APIs or Software Development Kits (SDKs) provided. After then, users must train the model using relevant datasets and dialogues in order to improve its comprehension and response.
Tailor the model's reaction, tone, and branding to your organization's voice and needs. This ensures that the chatbot is consistent with your company's values and accomplishes its unique goals.
 Following integration and customisation, it is critical to conduct extensive testing to confirm that the chatbot performs properly and to fine-tune its performance as needed. It is also critical to continuously analyze its interactions, gather feedback, and make required adjustments to improve its performance over time.
How To Join Janitor AI Discord
Janitor AI Discord is a community service that Janitor AI offers. You can join by going to the its website and following these steps:
At the bottom of the Janitor AI website, click the "Join the Discord" button.
Copy the Janitor AI Discord invitation link after obtaining it.
Log in to your Discord account and open the Discord website.
On the left, click "Add a new server."
You will join the Janitor AI Discord server after pasting your Janitor AI Discord invitation link.
Please keep in mind that the given translation is a literal translation of the text.
Limitations Of Janitor AI
Emotional Intelligence Deficiency: As an AI model, it may struggle to understand and respond appropriately to emotions exhibited by its users.
The complexity of questions: It may also struggle to understand complex or confusing questions that demand in-depth study.
Inability to deal with new or unexpected situations: Its effectiveness is restricted to the knowledge and experiences on which it has been taught.
Janitor AI enables NSFW content that may be inappropriate or offensive to some users. It does, however, have explicit terms of service and does not accept certain information on its website.
Janitor AI Not Working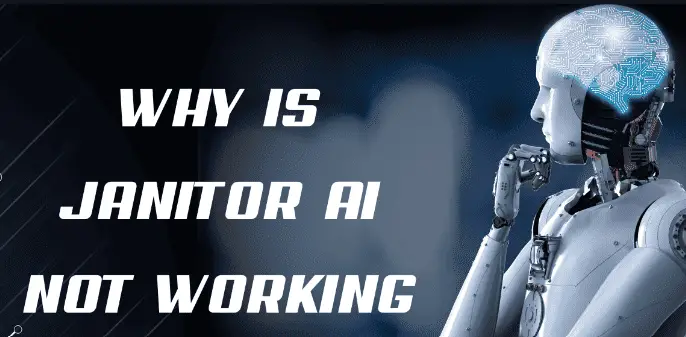 Due to its open-ended chat roles and compatibility for various cultures, Janitor AI has grown in popularity. However, because of the enormous number of users, there may be server outages, and many users may get a notice claiming that "Janitor AI is not working." 
This is a common occurrence; in fact, when ChatGPT was first launched, server breakdowns occurred as a result of reaching capacity. Here are a few answers:
Avoid using Janitor AI while user traffic is at its highest.
To increase the likelihood of successful access, use a steady and quick internet connection.
Sign in to your account to check the status of your account. Check for any alerts or warnings, such as those regarding payments, passwords, or account suspensions.
How To Sign Up And Use Janitor AI For Free
Using Janitor AI is now quite straightforward. All you need to do to utilize the superb features offered by the site is to create an account. If you're new to the application and wish to use it effectively, take the following actions:
 Open the Janitor AI website.
 Select the "Register" button in the top right corner of the screen. You will then need to register using an email address and password. You can choose to sign up using Google, Twitter, or Discord as well.
 Complete the fields with your information, upload a picture to serve as your avatar, and select "Update Profile."
Janitor AI will send you a verification email. Verify your account by going to your inbox. Return to Janitor AI then click the Login button. Using your credentials, sign in now.
Choose a chatbot to chat with from the list of alternatives. You can search based on your hobbies or use the trending area to uncover intriguing bots. Start a conversation with the AI-powered bot at this point.
Janitor AI offers NSFW and SFW chat settings. Accordingly, you can choose your chatbot. Your account may be at risk if you start a chat with an SFW bot that isn't appropriate. Don't misuse the platform.
Use Janitor AI As An API
There are a few additional steps to take if you are a developer. You may take these steps to integrate the AI model into your app as an API:
Utilize the offered APIs or Software Development Kits (SDKs) to integrate it into the platform or application you prefer.
To enhance the model's comprehension and responsiveness, train it using pertinent datasets and dialogues. This crucial step enhances the comprehension and responsiveness of the chatbot. 
Adjust the model's reaction, phrasing, and branding to reflect the needs and voice of your company. This phase makes sure that the chatbot runs properly, reflects the voice of your company, and achieves its targeted goals.
After integration and customisation, thoroughly test it to make sure it works as intended and improve performance. You can use it to identify potential issues and improve the chatbot's performance until it meets your standards. 
Keep an eye on how people are interacting with it, get feedback, and make any necessary adjustments.
Conclusion
You can communicate with a wide variety of chatbots on the Janitor AI platform. There are bots for enthusiasts of K-Pop, sports, anime, tech, and geek culture. Any topic you can imagine has a chatbot to debate it. You can even develop your own chatbots that you can use.
Do check out the post on Beta Character AI which will help you to create characters that are capable of learning and adapting to user behavior.
Cheers😎